We all know how difficult it can be to perform cross-border financial transactions. From slow transfers to ridiculous fees and monthly spending limits, it can be a real hassle to enjoy seamless operations when making payments abroad. What if we told you there's a platform that allows you to enjoy seamless and effective borderless transactions? Say hello to Changera— the number one cross-border payment platform for digital nomads.
In this post, we'll walk you through how to create an account on Changera as well as how to verify your account using your BVN. Let's get into it!
What is Changera?
Changera was launched in May 2021 as one of the flagship products of Bitmama inc. It was launched in a bid to bridge the cross-border payment gap that exists when doing international transactions within Africa and globally.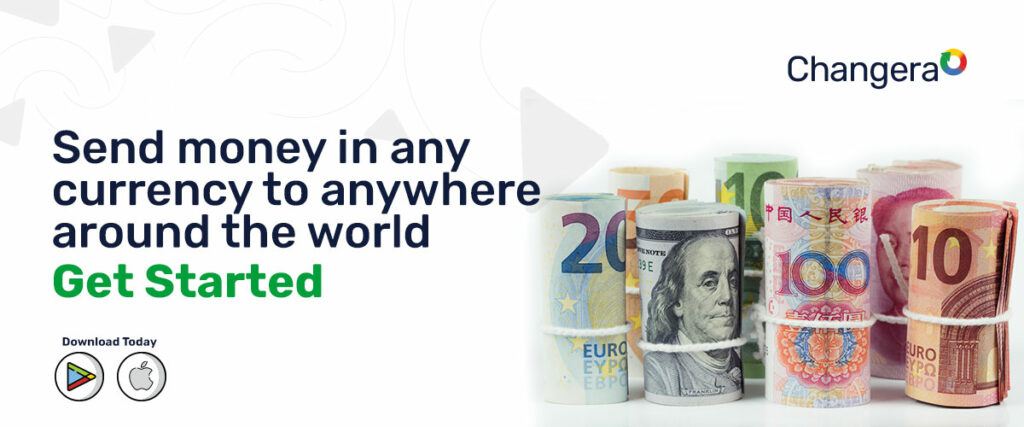 In addition to its cross-border payment services, you can also access other services such as payment of utility bills, purchase of airtime and data, purchase of tickets, and so on.
Why Changera?
You may be wondering why Changera is your best bet when it comes to online transactions and cross-border payments. Well, here are a few reasons why you should choose Changera:
Guaranteed Security
Changera uses high-end encryption of users' details to ensure that there is less risk of compromise of customers' data. In addition, there are multi-factor authentication and biometric login features to mobile apps and websites for added protection against online scams. You don't need to worry about the safety of your data. With Changera, you're always in good hands.
Convenience
Using a platform like Changera saves you the stress of long queues and unappealing customer support that are common to physical branches of traditional banks. You can access banking services anywhere you are around the world without any hassle. All you need is your smartphone and internet access.
24/7 Customer Support
Changera offers 24/7 online customer service which saves customers time. Additionally, the app employs advanced technology which simplifies many of your banking operations thereby reducing the need to reach out to customer support.
How to easily verify your account on Changera using your BVN
Changera is currently available on Google Play Store and Apple Store for download. You'll need to download the mobile app, create an account, and verify your account to enjoy access to the available features. The following steps will guide you on how to verify your Changera account using your BVN:
Download the Changera mobile app on Play Store or Apple Store.
Sign up by creating an account.
Login to your account and you'll be prompted to take a selfie. Click on "Continue" to take a selfie, then click on "submit" once you take the selfie picture.
On the next screen, enter your home address to continue the verification process. On the same page, you'd need to enter your BVN. After entering your BVN, click on "Continue" to proceed to the next page.
Verify your proof of residency with any of the following documents: driver's license, passport, identity card, or voter's card. Click on "finish" to submit your documents.
Your account will be verified in about 20-30 minutes and will be ready for use.
And that's it!
This is all it takes to verify your account and start enjoying limitless transactions.
Conclusion
If you're looking for a fintech company that works perfectly for global merchants, Changera is the platform for you. You can transfer money, use virtual cards, purchase airplane tickets, buy data and airtime, and make other bill payments on the app. With Changera, the opportunities are indeed endless.
Download the Changera App on Google play store or the Apple store to try it out today!