Not many things are better than a weekend of "Netflix n Chill" after a long stressful week. This is because, for most people, entertainment is the major form of relaxation that helps them cope with stress. As a result, over 230.7 million people subscribe to one of the most popular movie streaming platforms in the world- Netflix. You should keep in mind that you need to register and pay a monthly subscription fee to enjoy the endless features that Netflix offers.
Thankfully, all you need to do this is a Changera Virtual Card.
In this post, we'd walk you through the easiest way to renew your Netflix subscription using a Changera Virtual Card.
Let's get started.
How To Pay For Netflix
In most countries, subscribers pay for Netflix subscriptions with Virtual cards, Physical Credit or Debit Cards, Prepaid Cards, iDEAL (Direct Debit), and even Netflix Gift Cards.
However, subscribers in Nigeria with regular debit cards often experience issues like delayed payments, transaction limitations, problems with updating payment information, and rejected subscription orders.
Thankfully, the good news is that you do not have to go through all these issues if you own a reliable virtual card like the Changera Virtual Card.
Here's how it works; In addition to doing everything a physical card does, your Changera Virtual Card is more secure, dependable, and reliable. Also, you don't have to go through the stress of carrying a physical card all the time. All you need to do is connect your virtual card details to Netflix and renew your subscription any time you have to.
In addition to paying for Netflix, with your Virtual Card, you can:
Make instant payments
Make online purchases
Withdraw cash
Buy cryptocurrency
How To Pay For Netflix With The Changera Virtual Card.
Regarding Netflix subscriptions, it is important to note that you cannot update your payment information on the mobile app. In fact, with the application, you can only view or cancel your membership.
To update your payment information for subscriptions, you must log into your Netflix account on a web browser. Once you get in, click on "Account", then "Manage payment info". After this, select Virtual Card and connect your Changera Virtual Card details.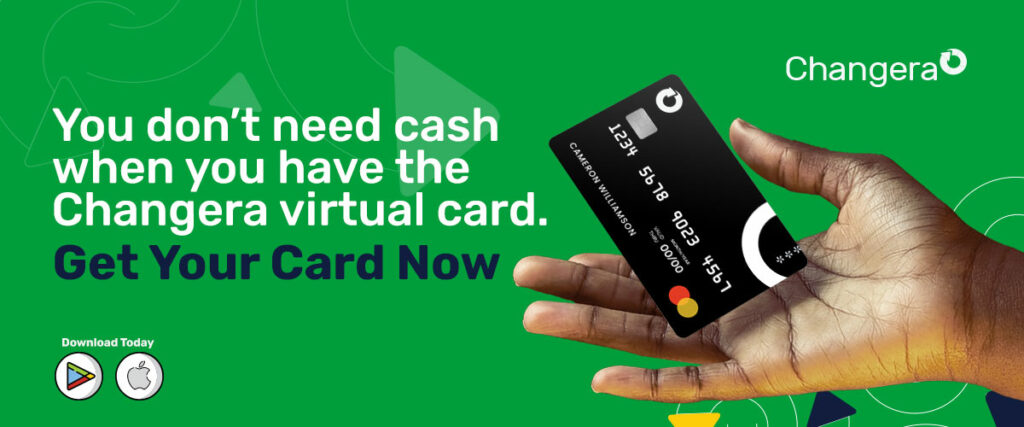 However, you need to remember that you've got to have an active Changera account and an issued virtual card before you can use it as a payment method.
To gain this access and enjoy countless benefits, all you need to do is download the Changera app on Google Play Store or the Apple Store today. To make things a lot easier, here's a step-by-step guide on how to go about it:
Download the application
Create an account
Verify your account with any of the following documents: BVN, Bank Statement, or Utility Bill.
After successful verification, you can proceed to request and receive your virtual card. Here are short videos on how to create and fund your Changera virtual card.
Step By Step Guide To Pay For Netflix Using The Changera Virtual Card
1. Log into Netflix's official website in your web browser.
For this step, you'll have to input your email or phone number and password in the provided field. Remember, if you have more than one profile associated with the account, you must have access to the primary account.
2. Click on Manage Payment Information
If you're using a desktop browser then this will be underneath your login information. Your current payment method will be listed to the left. However, if you're using a mobile browser, you'd find it under your current payment method.
3. Click On Add Payment Method And Select Your Preferred Payment Method
Click on the debit and credit card information, and then you would be required to fill in the details of your virtual card.
4. An Alternative Way Is To Link Your Netflix Account with your Changera Wallet.
Once you click on payment method, the next thing is to select "digital wallet". You would be required to provide your Changera wallet details and your wallet would be linked directly to Netflix after the authorization processes have been completed
Once your card information has been verified, you can continue to make payments on Netflix with it. The most amazing part is that you can make it your preferred payment method.
Keep in mind that Netflix will automatically charge you according to your subscription plan every month until you cancel it.
To make payments for any subscription on the Netflix website:
Select a subscription plan
Fill out the account information
Select your payment option
Make Your Payment
Conclusion
It's getting clearer by the day that we are in the age of virtual cards.
You can make all online payments using the Changera Virtual Card, and Payments on Netflix is not an exception. There is no limit to the ease, and convenience you enjoy when you opt for the Changera Virtual Card.
All you need to do is to download the Changera app on Play Store or Apple Store and create an account with Changera. Once your account is verified, you have access to all that Changera has to offer. In fact, the Changera Virtual Card is only the tip of the iceberg.
Register to find out more!