You've finalized your travel plans but you're still stuck on the type of flight to choose. We're here to help you out. When you think of flying, what comes to your mind? Busy public areas? Small seats? Unpalatable food? It doesn't have to be so. Some airlines go out of their way to make the experience of flying a wonderful one for their customers. Additionally, proper knowledge of the different classes of flights can help you make a choice that suits your needs and budget best.
Did you know that for the right price, some airlines provide extra legroom so you can stretch out with a little privacy? Sometimes, some luxurious first-class tickets even provide a private bedroom with a full-sized bathroom and shower. Of course, this will come with some extra costs.
This article compares Business vs Economy vs First-class flights and adds a note on which is best for you. Let's get into the post right away!
Pros and Cons of Flying First Class
Generally, economy-class flights provide pretty much the same experience across different airlines. However, traveling first class comes with a lot of choices. The hefty price for a first-class flight allows you to explore a world of endless comfort while traveling by air. First-class cabins can range from semi-private luxury and comfort to full suites with private bathrooms fit for royalty.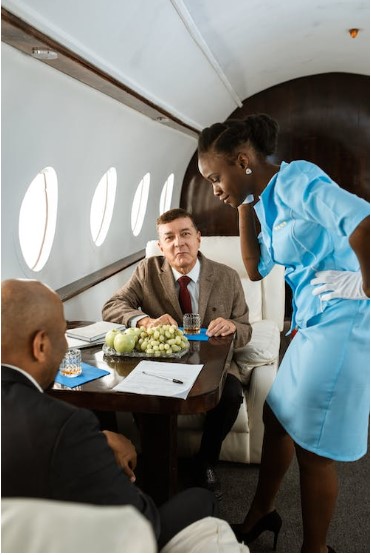 Pros of First Class
Opulent lounges that may have private suites for a nap, free spa services, lounge-to-plane escorts, and world-rated chef-designed menus.
More comfortable seating compared to business and economy class. Some airlines offer ample, sofa-style seating to recline in with extra leg room.
Special menu to choose from. Most first-class service providers have a unique menu available with world-renowned chefs putting their signatures on their menu. Plus, there are usually free alcoholic and non-alcoholic beverages provided in the lounges and onboard.
Cons of First-Class Tickets
On average, you should expect to pay about 6 times more than an economy ticket for a first-class ticket. Of course, it should be expected that the comfort and luxury that comes with flying first class will come at a whole lot more cost.
Not all airlines offer first-class availability. Sometimes, those that provide it don't provide it on all flights, so when and where you want to travel will affect your ability to choose first class.
Perks and Drawbacks of Flying Business Class
Business class offers quite a reasonable amount of luxury without the exorbitant price of a first-class ticket. If you're a little tight on budget but still want to travel in opulence, a business-class flight is a good compromise.
Perks of Flying Business Class
Most business-class lounges are designed for the convenience of a business user. There are quiet, exclusive areas intended for work while awaiting departure.
The seats are more extensive, wider and provide more legroom than seats in economy.
Complimentary alcoholic and non-alcoholic beverages, as well as a more varied menu than economy are available in business class.
Business class flights are widely available, with most airlines providing both domestic and international regular flights.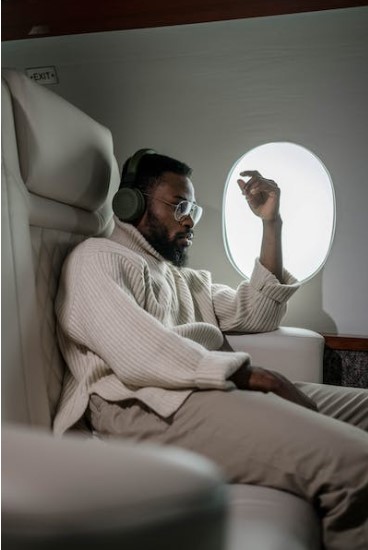 Drawbacks of Flying Business Class
More expensive compared to an economy-class ticket.
No complimentary upgrades.
Benefits and Downsides of Flying Economy
Economy Class is the lowest class in air travel. It's simply the most basic class and as a result, this makes it the cheapest flight to book. It is also the highest-selling class of seats due to its relatively lower price.
Benefit of Flying Economy Class
Significantly cheaper than other classes.
Downsides of Flying Economy Class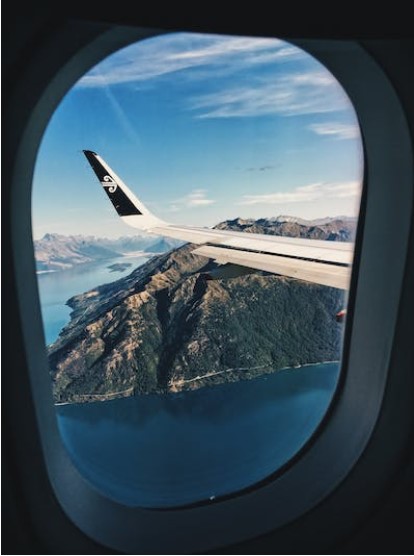 Uncomfortable seats with limited legroom.
Low-quality food and beverages.
Zero privacy.
Overall, business class is probably the best way to get value for your money. With business class, you can enjoy premium comfort on your flight without emptying your bank account.
Booking Your Flight Ticket with Changera
If you want to get the most affordable flights for your trips, it is advised to book your flight between 3 weeks to 4 months before your departure date. Don't worry, Changera offers you the best flight deals you can find anywhere to choose from. Here's how to book flight tickets on Changera:
Download the app from Google Play Store or Apple Store.
Create an account.
Verify your account and fund it.
Enter all your information on the app.
Enter the city you'll be traveling to, as well as your departure date.
Browse the available options to find the best flight for you.
Enter your information exactly as it appears on your ID.
Choose any available add-ons like additional baggage or travel insurance.
Choose and verify your preferred payment method.
Pay for the flight using Changera's virtual dollar card (EasyDollar) card.
Your flight will be successfully booked and an e-ticket will arrive in your inbox.
When you're planning a trip, one of the most important things to consider is your flight. You may be conflicted about the best flight to get the most value for your money. We've broken down the three types of flights to make your next airline ticket purchase easier. Also, we've recommended the best app to use for your ticket purchases. Changera offers you the best flight deals all year round. All you need to do is download the Changera mobile app from Google Play Store or Apple Store today to get started.