Hello Traveler!
We know that one of the challenges of a traveler is finding the right place to go to, when to go and how to pack. Don't worry we've got you. Before you pack your bags let's wet your appetite with a glimpse of a beautiful country in West Africa called Ghana!
Ghana officially became the first country to gain its independence in West Africa from colonial rule on 6th March 1957. The road to independence was led by Osagyefo Dr. Kwame Nkrumah, who became the first President of the Republic of Ghana. This date is celebrated each year in the country as a national holiday. It is therefore safe to say this one eventful day you cannot miss out on to experience the history of the Ghanaian people come alive!
Interesting facts about Ghana
The country spans the Gulf of Guinea and the Atlantic Ocean to the south, sharing borders with the Ivory Coast in the west, Burkina Faso in the north, and Togo in the east. There are many tourist attraction sites in Ghana, because it is a home to many historical, cultural and natural attractions. If you are planning to travel to Ghana, these are the top tourist attractions you should visit in Ghana. There is so much to explore in the country and such a wide variety of attractions in every region of the country.
Another date to travel to Ghana is in December and it is around the corner! During December, Ghana hosts some of the most exciting parties and events which have gained popularity worldwide. A good example is the famous Afrochela. There is also the one street which never sleeps in Accra, This is the Oxford Street in Osu, Accra-Ghana.
Labadi Beach
Labadi Beach or more properly known as La Pleasure Beach is the busiest beach on Ghana's coast. It is one of Accra's beaches and is maintained by the local hotels. Labadi Beach is in a town called La, popularly known as Labadi, near Teshie in the Greater Accra Region of Ghana. An entrance fee to those not staying in the hotels is charged. On holidays and weekends there are often performances of reggae, hiplife, playback, and cultural drumming and dancing
If you want to have a relaxing time in Ghana, Labadi beach is the place for you.Here you can swim in the cool ocean water and enjoy the long stretches of perfect sand. You will have a sumptuous view of the sea and can watch the sun rise and fall in all its glory. The beach is also unique compared to the rest of the Ghanaian coastline because there are so many activities to get involved with like horseback riding and night-time parties.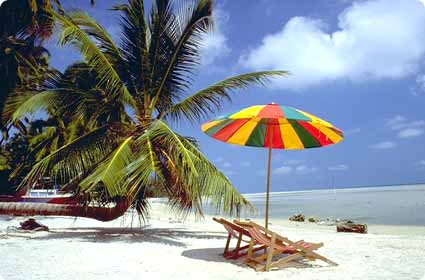 Mole National Park
This is yet another national park on our list and it falls in the northwest part of Ghana. This is the largest wildlife park in Ghana. Tourists can see several different types of animals including roan antelope, buffalo, elephants, hyenas, leopards etc. They may also spot lions from time to time. The park is home to more than 250 species of birds which is great for bird enthusiasts. If you can, try to visit the park during the dry season which lasts from January to March to catch most of the animals as they come to drink water. For every reason, it is counted amongst the best places to visit in Ghana.
Hey Read this post if: You want to send money abroad? Here's a faster and easier way to do it
Kakum National Park
The Kakum National Park is rich in wonder and life. Here you will find thick rainforest parkland that has amazing hiking routes with great views. It is stretched over an extensive part of southern Ghana. It is a must-see destination. The awesome canopy walk, suspended 30 metres above the ground, makes you feel like you're walking among giants. The park is home to a number of endangered animals including forest elephants, the Diana monkey and bongo antelopes. It is the best-preserved region of rainforest in the country and is definitely worth a visit.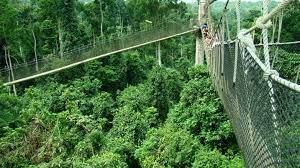 National Museum of Ghana
The National Museum of Ghana is owned and operated by the Ghana Museums and Monuments Board (GMMB), and has been in operation since March 5th, 1957. The museum has three primary collection areas; archaeology, ethnography, and art, which are used to weave together a story about Ghana's rich cultural history. The National Museum of Ghana houses some of the most precious and historical items in the whole country. It is a popular tourist attraction. It is the place to go if you want to learn about the history of Ghana. For many people, who want a day away from the beaches, the Museum is the perfect place to go. It is Ghana's primary point of interest for tourists and citizens alike.
Boti Falls
Boti falls is a twin waterfall, referred to as female and male. The beautiful Boti Falls can be found in Koforidua which is the capital of the eastern region in the South of Ghana. It is also only a 90-minute drive from Accra. When you arrive you will probably be struck by the stunning beauty of the falls.The lower falls in particular are one of the most popular Ghana sites to visit. On sunny days it is common to see many visitors basking in the glory of the falls and swimming in the cool water below.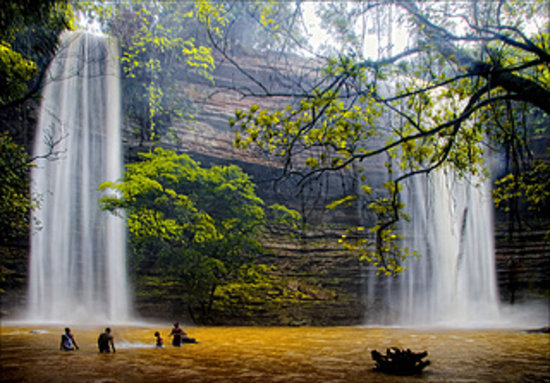 These top tourist attractions are not only some of the best places to visit in Ghana. Hopefully, you now have a good idea of what Ghana's tourist sites have to offer. It is a wonderful country with a vibrant culture that can be seen in so many of the Ghanaian citizens.
FOR YOU IF send money abroad? Here's a faster and easier way to do it
For more on Ghana tourism, please check on Ghana.Gov
We are here to help
Now it is time to pack your bags and get on the next plane to Accra, Ghana!
Just one moment before you step out. We know handling cash especially when traveling could compromise your safety. Also, having to exchange your money into the local currency (Ghana Cedis- GHS) can be too much 'wahala' (frustrating) for you. This is why we have built the Changera app, which would allow you to load your wallet and easily access local currency on the app to be able to spend in Ghana with less wahala and transaction/withdrawal costs. Isn't that amazing?
Also, If you have friends or family in Ghana or you plan to travel there soon, you can send money safely with Changera's money transfer service. Changera lets you send and receive money internationally, buy airtime or data for family and friends, pay utility bills for your loved ones from anywhere in the world. We can enable you and your loved ones to have a good time in Ghana while you use our App for money transfer. Download Changera App on Google play store and iOs App store to send and receive money and gifts easily.
Also read