Think about the largest gathering of innovative SMEs, startups, and enthusiastic industry visionaries. Expectedly, only one event comes to mind— Trade Lenda Fair! Trade Lenda is a leading platform for empowering small and medium-sized enterprises in Nigeria. With this in mind, we're happy to announce that Trade Lenda is set to host the biggest entrepreneurial event in 2023. The event poses a one-of-a-kind opportunity for entrepreneurs to create a unique ecosystem designed to drive business growth. Likewise, the event is crucial towards shaping the future of entrepreneurship in Nigeria. In view of this, attendees can expect a lineup of exciting sessions and invaluable opportunities to network with like-minded individuals. The goal is to bring together people who share a passion for driving positive development through business.
In this post, we'll let you in on all you need to know about the Trade Lenda Fair 2023. This includes how to register as well as how to purchase tickets for the event. Keep reading!
About Trade Lenda
It is a known fact that access to finance is a significant challenge for SMEs and MSMEs across developing economies. Hence, there's a pressing demand for solutions that reduce the burden of financial restraints for startups and MSMEs. Thankfully, there are platforms that tackle this funding problem effectively. Trade Lenda is a digital financial service dedicated to the empowerment of small businesses and medium-sized enterprises in Nigeria. This empowerment can occur through various strategies. Some of which include a comprehensive suite of financial services, strategic partnerships, and idea-sharing initiatives.
Trade Lenda Fair 2023
This year's event theme is "Empowering SMEs: Driving Innovation, Collaboration, and Growth for Nation Building". Trade Lenda Fair 2023 will showcase the latest industry trends, innovative solutions, and cut-edge technologies that are changing the business landscape. All these with a focus on empowering SMEs and MSMEs. Attendees will gain insight from successful entrepreneurs, thought leaders, and industry experts. It doesn't end there. The events lineup also include a proper orientation session on how to overcome challenges, seize opportunities and achieve sustainable business growth.
In addition to the exhibitions, selected SMEs will be able to participate in a pitch competition. Chosen winners get to walk away with cumulative gifts worth 5 million Naira. Amongst these gifts are cash, a preloaded dollar card by Changera, and many more exciting rewards.
Overall, the major highlight of Trade Lenda Fair 2023 is the diverse range of curated experiences and interactive sessions. Each session tailored to meet the specific needs of various sectors and industries in the country.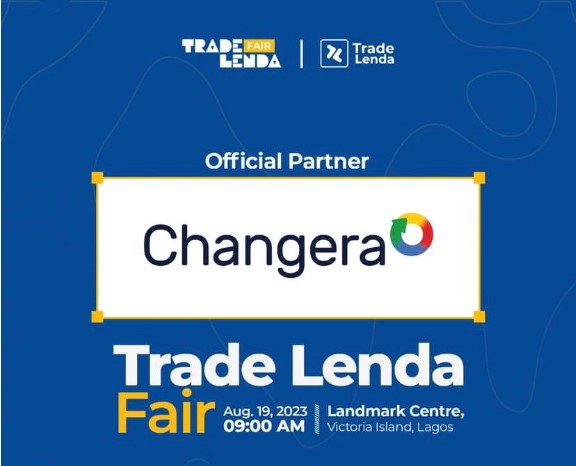 Get Your Tickets
Registration for Trade Lenda Fair 2023 is now open and we encourage all ambitious entrepreneurs to secure their booths early. The best part is that tickets are free for early birds. For this year's event, Changera has officially partnered with Trade Lenda to bring you the most exciting networking experience. This means that you can easily purchase tickets on the Changera mobile app. All you have to do is log into the Changera mobile app and register for the event.
If you don't have an account, download the Changera mobile app on Google Play Store or App Store to get started. Be a part of the Trade Lenda Fair 2023, to reignite your entrepreneurial spirit.