Lagos, Nigeria July 21, 2023 – Fast-growing cross-border payments startup Changera, has joined forces with MoneyGram, a global leader in the evolution of digital P2P payments and the open-source Stellar network, to enable cash-to-crypto deposits and withdrawals for customers globally.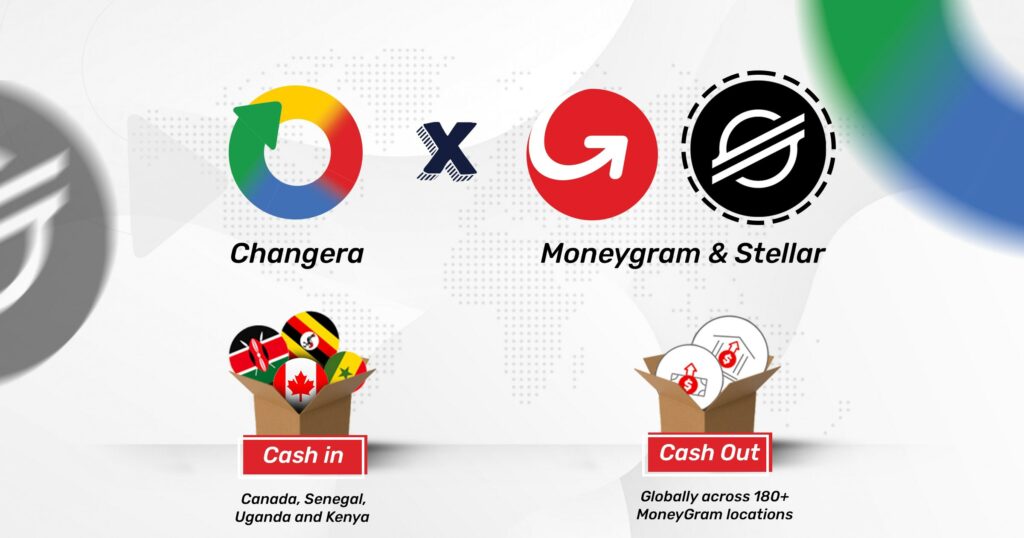 This integration marks a significant milestone towards Changera`s mission to democratize cross-border payments access for people and businesses worldwide. Changera will now allow both cash-in services in Canada, Senegal, Uganda and Kenya and cash-out services using Circle's stablecoin, USDC, via the Stellar blockchain network, at participating MoneyGram locations across 180+ countries.
Founded in 2021 by Bitmama Inc., Changera's business objectives are rooted in enabling seamless and secure cross-border payments and remittances for its users. Since its inception, the fintech platform has delivered on its value proposition to allow businesses across Nigeria, Ghana, Kenya and Canada.
International money transfer
With this integration, Changera is taking a giant leap forward, expanding its reach worldwide as the first African-based custodial wallet collaborating with MoneyGram. Users in Canada, Senegal, Uganda and Kenya will enjoy reduced costs and faster transactions when cashing in at MoneyGram agents closest to their locations into their Changera Wallets, while withdrawals are available to existing and new customers globally.
Speaking on the integration, Ruth Iselema, the Chief Executive Officer of Changera said "The primary objective of this integration is to simplify the process of funding Changera wallets for users. Our solution is coming very timely because 1.4b people currently don't have bank accounts globally. That`s approximately a quarter of the world's population and 60% of adults worldwide work in the cash economy despite access to digital wallets. MoneyGram's extensive network of agents will allow easier deposit and cash transfers in these regions and recipients will have unparalleled access to cash out their funds conveniently. This is the first collaboration of its kind between MoneyGram and a Fintech company in Africa, outside of traditional banking institutions. We're proud to be pioneers of such."
Expressing excitement about the integration, Umar Adamu, Chief Technology Officer at Changera said "We are thrilled that our goal to enable businesses and individuals move money freely globally is coming to fruition through this integration with a global leader in cross-border money transfers and payment service MoneyGram. This collaboration marks a significant milestone for Changera as we expand our reach and enhance the user experience for our customers. We are revolutionising the way Africans engage with digital wallets, providing them with unparalleled convenience and accessibility as they on/off ramp with USDC over the Stellar network on our platform. It accentuates our commitment to fostering financial inclusion and empowering individuals throughout the continent. We are excited about the possibilities and look forward to transforming the financial landscape in Africa together."
Direct cash deposits and withdrawals are a major step forward for Changera`s customers who can now access their funds swiftly and securely, without the limitations previously experienced. It further underscores Changera's commitment to advancing financial inclusion for the excluded, unserved and underserved regions in Africa and ensuring equal access to the benefits of the digital economy.
By integrating MoneyGram's trusted services, Changera is staying true to its mission to allow users to transact without limits, regardless of their geographic locations, thereby bridging the gap underserved by the traditional banking systems and offering individuals convenience, reliability, and security when it comes to digital wallet payments and remittance. The integration represents a significant milestone in the pursuit of financial inclusivity, reinforcing Changera's position as a trailblazer in the African Fintech landscape.
About Changera
Changera is a venture-backed cross-border social payment company that allows businesses and individuals to transact and make payments globally. Changera has been recognized as one of the fastest-growing fintech apps with users spread across Nigeria, Ghana, Kenya, and Canada.
With Changera, users access features such as local currency conversions, virtual Dollar cards, dollar, pound, and euro accounts to send and receive payments globally and hold their cash across several multi-currency wallets.
The fintech offers MasterCard and VISA-issued virtual & physical dollar cards that work on all local and international online/offline payment channels. The app is available for download on Appstore and Playstore. Follow @Changeraapp on all social media platforms.
About the Stellar Development Foundation
The Stellar Development Foundation (SDF) is a non-profit organization that supports the development and growth of Stellar, an open-source network that connects the world's financial infrastructure. Founded in 2014, the Foundation helps maintain Stellar's codebase, supports the technical and business communities building on the network, and serves as a voice to regulators and institutions. The Foundation seeks to create equitable access to the global financial system, using the Stellar network to unlock the world's economic potential through blockchain technology. For more information, visit stellar.org/foundation.
About the Stellar Network
Stellar is a decentralized, fast, scalable, and uniquely sustainable network for financial products and services. It is both a cross-currency transaction system and a platform for digital asset issuance, designed to connect the world's financial infrastructure. Financial institutions worldwide issue assets and settle payments on the Stellar network, which has grown to over 7 million accounts and processed more than 10 billion operations. For more information, visit stellar.org.
About MoneyGram
MoneyGram International, Inc. is a global financial technology company that enables consumers and businesses to move and manage money in nearly every country around the world. Through its expansive set of fintech offerings, MoneyGram provides millions of consumers annually the ability to seamlessly send money home to family and friends, and buy, sell, and hold cryptocurrencies on its industry-leading app. The Company's innovative cross-border platform enables its customers to send funds directly into bank accounts and mobile wallets or cash-in and cash-out more than 135 currencies and numerous cryptocurrencies through one of the largest cash distribution networks in the world. Modern, mobile, and API-driven, MoneyGram's white-labeled remittance service also provides some of the world's top brands and organizations the ability to disburse funds directly to their consumer clients. Based in Dallas and known for its strong corporate culture globally, MoneyGram has been named a recipient of the Top Workplaces USA award for two consecutive years, an honor based entirely on employee feedback.